Although summer might be coming to a close, there are still lots of activities and events taking place in Malta this September.  Here are our top picks!
Rockestra | 10th September 2016 | MFCC, Ta' Qali
This great show gets better and better every year, and this year a number of very talented artists will be taking part in the show.  Tickets for adults start for €15 and proceeds will go in aid of the Malta Community Chest Fund.
For more information, visit: http://www.rockestra.org.mt
Qala International Folk Festival | 16th – 18th September |Qala, Gozo
Bursting with tradition, this festival features music, dance, costumes and great food – all found in the lovely village of Qala in Gozo.
For more information, please visit: http://www.qala.com.mt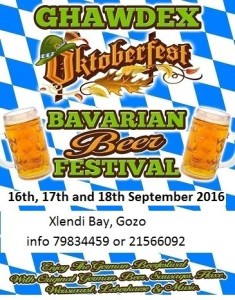 Ghawdex OKTOBERFEST | 16th – 18th September | Xlendi Bay, Gozo
Another event on the lovely island of Gozo, this time specialising in beer.  Based on Oktoberfest in Germany, the Gozotin Oktoberfest similarly features great food, live music, activities, and of course, beer. Entrance is free but reservations are highly recommended.
For more information, please visit: www.oktoberfest.com.mt
Eros Ramazzotti Concert | 17th September | MFCC, Ta' Qali
See the Italian singer Eros Ramazzzotti LIVE in Malta on his tour, Perfetto!
For more information, or to buy tickets, please visit: http://www.ticketline.com.mt
Malta International Airshow 2016 | 24th – 25th September | Malta International Airport
Now it its 24th edition, the Malta International Airshow is one of Malta's largest events, showcasing number of aircraft both on static as well aerial displays.  There are also shops selling merchandise as well as food and beverage.
For more information, please visit: www.maltairshow.com