Looking for events or for things to do this April in Malta? Have a look at NSTS's top picks!
International Spring Orchestra Festival | 1st – 9th April 2016 | Teatru Manoel, Valletta
Calling all Classical Music Lovers! This April the International Spring Orchestra Festival will feature some beautiful classical music and amazing performers at Teatru Manoel with the Grand Closing at Mediterranean Conference Centre, Valletta.
For more info, visit: http://www.iso-festival.com/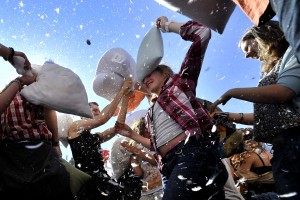 Pillow Fight Day  | 2nd April 2016 |Pembroke Park and Ride
There's an international Pillow Fight Day, and Malta's taking part!  
It's free so grab a pillow and some friends and come join the fun!
More info: http://pillowfightday.com/

Jimmy Carr Funny Business Malta |15th – 16th April  2016 | InterContinenantal Arena & Conference Centre
Set to be the funniest event in Malta, Jimmy Carr's Funny Business is a show not to be missed.  Jimmy Carr is one of the biggest comedians in the UK and the show will run for two nights.
To book your tickets, visit: https://www.showshappening.com
Cheese and Wine Festival – Malta | 16th April 2016 |Ħal Għaxaq
If you just love a good night of cheese and wine, look no further! The Ghaxaq Local Council has organised a Cheese and Wine Festival, because who wouldn't want to taste cheese from around the world?!
For more Info visit: https://www.facebook.com/events/
Gigi D'Alessio & Band Live in Concert | 17th April 2016 | Mediterranean Conference Centre, Valletta
Gigi D'Alessio and his band will be performing in Malta as part of the Malaterra world tour. The concert promises to be huge and enjoyable as always.
Get your tickets here, before they sell out! http://www.cmcpromotionsmalta.com/
A Night With Gigi D'Agostino | 22nd April 2016 | Aria Complex
From one Gigi to another! Gigi D'Agostino will be performing at Aria Complex.  Great music and clubbing awaits you!
For more info, visit: https://www.facebook.com/events/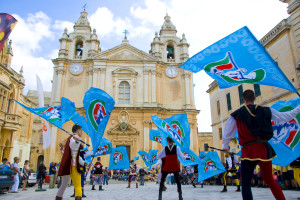 The Mdina Medieval Festival | 23-24th April 2016 | Mdina
Travel back in time in the Medieval city of Mdina! A slave market, sword fighting, archery, magic shows, music, falconry, parades …. The list of things to see and do is endless!
For more info, visit: https://www.facebook.com/events/
The Malta International Fireworks | 16th, 23rd, 30th April 2016 | Marsaxlokk, Xaghra Gozo, Valletta Grand Harbour
Not one, not two, but THREE great firework shows will take place around Malta this April. Now in it's 15th edition, the Malta International Fireworks Festival displays spectacular fireworks from participants from all over the world. And all 3 events are Free!
For more info, visit: http://www.maltafireworksfestival.com/
Groovefest | 29th April – 1st May 2016 | Café Del Mar
Groovefest has come to Malta with a great line-up of artists! Party your way into Summer on this beautiful island.
For more info, visit: http://www.groovefestevents.eu/